According to the forecasts of the Polish Central Statistical Office (GUS), by 2050 the population of Poland will decrease by about 4.5 million (to less than 34 million people). This outflow will affect the inhabitants of cities most acutely.
Many Poles think they live in cramped conditions. Hard data confirms and points to overcrowding, in-sufficient number of dwellings and a low per capita living space. Catching up with European standards will take 25 years despite the quickly decreasing number of citizens living in the country.
According to the forecasts of the Polish Central Statistical Office (GUS), by 2050 the population of Po-land will decrease by about 4.5 million (to less than 34 million people). This outflow will affect the in-habitants of cities most acutely. In 2015 around 23.1 million people lived in cities, and 35 years later that number is projected to fall to a mere 18.8 – which means a decrease of 4.3 million inhabitants. Does this mean that apartments financed today with long-term mortgages will go down in value and the least attractive neighborhoods' will be abandoned? Certainly not in all the cities.
Smaller cities will lose the most
Smaller towns with little infrastructure, no universities or job opportunities to attract people will suffer the biggest outflow of residents. The GUS projections indicate that in the middle of the century, 12.2 million people will live in cities other than voivodeships' capitals. This is approx. 21 per cent less than today (15.5 million people). However, even voivodeships' seats will face problems. The GUS projections for the year 2050 show a decline in the number of their inhabitants by more than 13 per cent, or about 1 million people (from 7.6 million to 6.6 million).
In 35 years only two voivodeship cities, Warsaw and Rzeszów, will have more inhabitants than today. It should be noted, however, that in both cases the arrival of new residents will translate into only meager increases. In Warsaw the population is supposed to rise by 35 900 and in Rzeszów by 2 200 (2 per cent and 1 per cent of the current population respectively). In other voivodeships' capitals the number of residents is projected to decrease. This problem will especially affect Łódź, Katowice and Kielce. In 2050 the population in these three cities will be over 30 per cent lower than today.
(infographics Bogusław Rzepczak)
The suburbs are swelling
It should be noted that voivodeships' capitals are attracting newcomers while losing their existing inhabit-ants to the neighboring counties. This leads to a city sprawl and the proliferation of suburbs. In its projections GUS assumes this trend will continue. As a result, 5.7 million people are expected to live in counties adjacent to voivodeships' cities in 2050, which is approx. 800,000 people more compared to the present (an increase of 17 per cent).
The counties with the highest numbers of new residents will include the Wrocław County with a population increase of 58 per cent, the Gdańsk County with an increase of 54 per cent and the Poznań County with an increase of 51 per cent. On the other hand, the Nowy Dwór County and the Gryfino County are going to have 15 per cent less residents than today.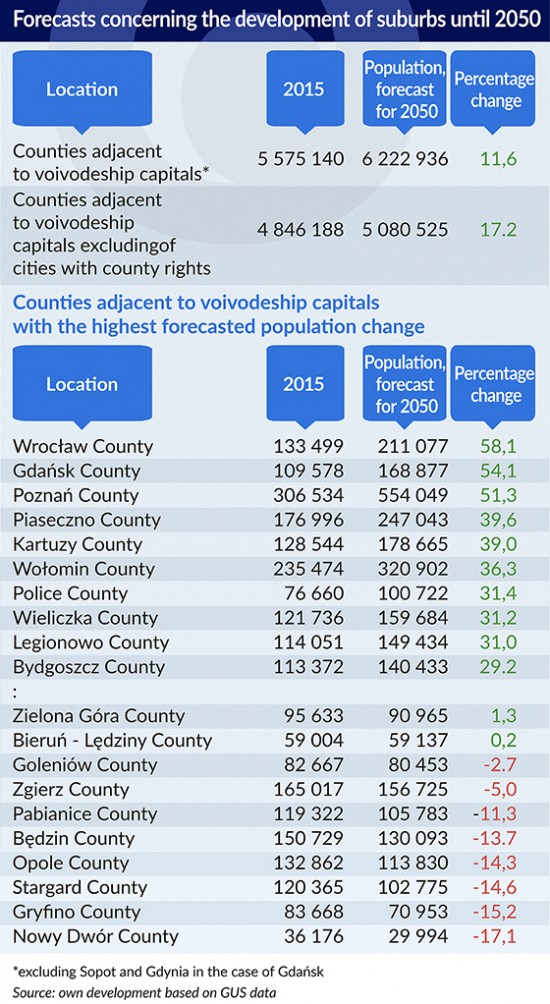 (infographics Bogusław Rzepczak)
Developers will be kept busy for 25 years
Despite the shrinking population and the flight away from cities, Poland is still suffering and will continue to suffer from a shortage of housing. Today, more than 44 per cent of adult Poles (the 25-34 age group) live with their parents. The apartments are small, overcrowded and require renovation – this is the picture of the Polish housing sector which emerges from the statistics of the European Statistical Office.
The price levels are high compared to the earnings of the population. A person working in a big city earns the equivalent of half a meter of an apartment per month, and renting a modest studio apartment often costs 40 per cent of the salary.
It is difficult to say how many additional flats should have to be built so the supply would lower the prices. There are currently nearly 14 million dwellings in Poland. According to GUS, over the last five years, this number has been increased by an average of 144,000 new dwellings per year, while 3,000 dwellings have been demolished.
The demand could be examined in several ways. One of them may be the number of housing units per 1000 inhabitants (363 in Poland vs. 477 in Europe). This comparison takes into account the fact that in the West an average household is smaller (more singles and fewer families with children) and more people own a holiday house. The reference to the European average is justified as similar changes could be expected to occur in Poland in the future.
Another way to determine demand could be to compare the number of rooms per capita. In this case we take into account the fact that in the West a higher housing standard is applied. The average in Europe is 1.6 rooms per person, and in Poland only 1.1 rooms per person. Yet, another indication could be the surface area of a dwelling per person (26.7 sq. m in Poland and 34.1 sq. m in Europe). It should be emphasized, however, that this latter indicator is understated for the Old Continent, as in many Western European countries the local statistical offices do not analyze the size and living area of apartments.
With the current growth rate of the Polish housing industry, it would take 45 years to reach the average European levels in terms of the number of rooms per citizen; 31 years if we took into account the number of dwellings per 1000 inhabitants, and 27 years to reach the same living area per head as in the West. If we were to determine an average from these results, we could venture to say that based on the residential demand in Poland, the housing sector should, for the next 35 years, be delivering the same number of homes and apartments as in the recent years. Our estimates, however, should also take into account the decline in the population in general, and in the cities in particular. In such a case the time required to meet the housing needs of the Poles would be reduced from 35 to about 25 years.
If we were to believe the forecasts, developers should already be thinking about preparations for development investments outside the cities.
New housing standards
The residential needs of Poles are evolving. The society is aging, fewer children will be born, and an increasing number of Poles will live on their own. And after all, lifestyle also determines people's housing plans. What kind of housing will Poles need in 2050? If we wanted Polish housing standards to match those set by the Eurostat, then studio apartments would have to be eliminated. According to the assumptions of the Eurostat, each single individual should have at least a one-bedroom apartment, a couple should live in a similar apartment, but two adults that are not in a relationship need a two-bedroom apartment.
Even more space is recommended for families with children. When children are young, two of them can share a room, but after that each one should have its own room. This means that a family with two children may need a four-bedroom apartment. Otherwise, according to the Eurostat, the premises should be considered overcrowded.
Today, based on the GUS forecasts concerning households in Poland in 2035, we could risk saying that the majority of residential construction in cities should consist of one bedroom apartments. They should account for about 50-60 per cent of the existing apartments. Two bedroom apartments should make up 20-30 per cent of the housing resources. The remaining part should be apartments with a higher number of bedrooms.
Bartosz Turek is an analyst in Lion's Bank