Bulgaria can be a door opener for Turkey's EU accession, said Bulgarian PM Boyko Borissov during the visit of Ahmet Davutoglu, his Turkish counterpart, in Sofia.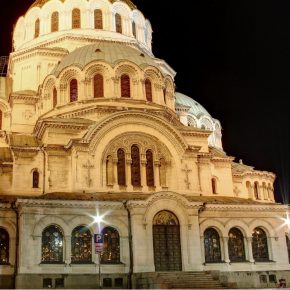 Alexander Nevsky Cathedral, Sofia, Bulgaria (Tsvetan Bondzhov, CC BY)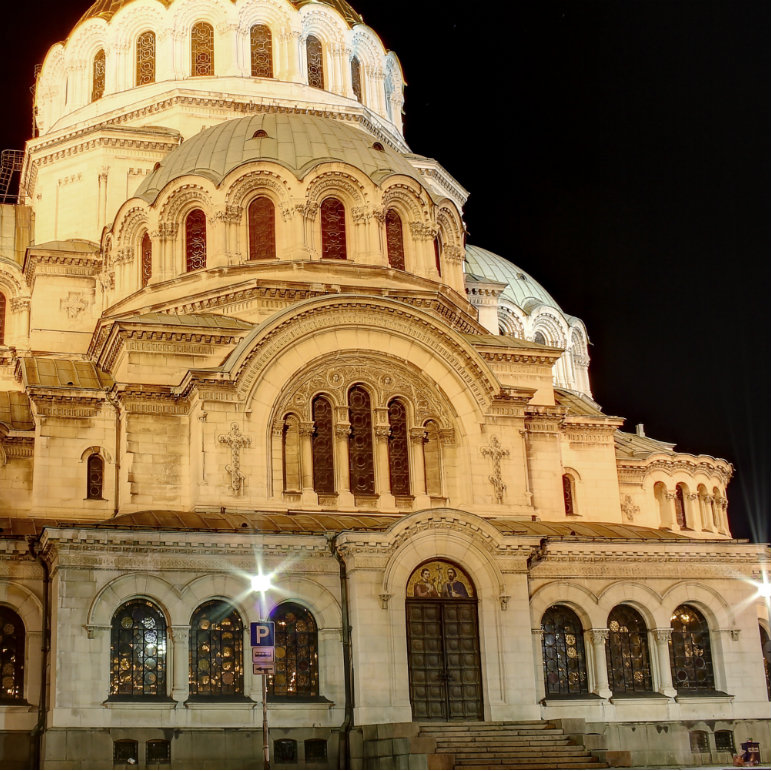 Alexander Nevsky Cathedral, Sofia, Bulgaria (Tsvetan Bondzhov, CC BY)
Amidst high global political, security and diplomatic activity in Europe, the recently elected Turkish Prime Minister Ahmet Davutoglu has paid a visit to Bulgaria at the invitation of his counterpart Prime Minister Boyko Borissov.
The one day meeting is of economic and political importance to South East Europe (SEE), especially when regional infrastructure projects are under way, while the area is also managing the additional pressures related to security control and the Syrian refugee crisis.
To put this in perspective, Borissov met Davutoglu after the recent historic visit of the German Chancellor Angela Merkel to Turkey, when the country's EU accession was once again put on the table, following the EU security meeting and Paris climate talks ahead of the December EU Council in Brussels.
In Sofia, Davutoglu and Borissov confirmed the existing economic and security co-operation between the two countries, while the Turkish PM also met the Bulgarian President Rossen Plevneliev and the Bulgarian Chief-Mufti Mustafa Hadji. The last meeting is an important step given the history of relations between the two countries due to the the 10% ethnic Turkish component of Bulgaria's 7.3 million population.
"I believe that the relations between Turkey and Russia will normalise, but one has to be patient", Borissov said in a public statement. "Without negotiations, there is no way to move forward the strategic infrastructure projects," he said. "I will not comment, but we need peace over our borders," Borissov added.
Both countries at different historic times have had complex relations with Russia, but separately Bulgaria had long-standing historic and cultural ties with Russia, which go well beyond economic co-operation. As a result, Bulgaria could continue serving as a regional strategic mediator due to its membership in the EU and NATO. The relations between Turkey and Greece, also an EU and NATO member, have been complicated due to the Cyprus issue. Moreover, Greece's left wing government of Alexis Tsipras has recently pursued close links with Russia.
Russia on the horizon
Although the Russian President Vladimir Putin has recently expected a more definitive Bulgarian foreign and trade policy when common energy projects have fallen apart, the Bulgarian PM is now in a position to speak to both Putin and Davutoglu, so any progress on strategic cooperation between either of the countries cannot be taken for granted. In addition, since the economic sanctions between EU and Russia have been established last year as a result of the crisis in East Ukraine, Bulgarian-Russian relations have not been particularly easy.
"I hope both countries (Russia and Turkey) will be reasonable as they acted as first friends for many years, so I expect an improvement in their relations," Borissov said.
Parts of Bulgarian business, especially the tourism industry, were vocal about retaining Russian interests in Bulgaria, while nationalist party Ataka demonstrated against Davutoglu's visit, so regaining normality in Russian-Turkish relations will certainly have a positive impact on Bulgaria and the SEE region.
Bulgaria – a door opener          
"Bulgaria is a door opener for Turkey's EU accession, as well as our strategic partner", Davutoglu said. "We are putting together common infrastructure projects, including a high speed train from Istanbul to Sofia, as well as planning an Interconnector for Azeri gas to Bulgaria."
Both projects fit into Bulgaria's long-standing ambition to become a regional gas transit hub, with a pending project of another gas Interconnector between Greece and Bulgaria. Borissov said that he is planning to discuss the "Balkan" Interconnector with Tsipras during the EU Council meeting in Brussels, as the aim is for "Balkan" together with another Interconnector with Turkey to ensure diversity in gas supply, according to the EU's energy security recommendations.
These projects also need regulatory approval, including environmental permits, and these may not be easy to get, while the EU is under pressure to reduce the use of fossil fuels. In Brussels, the Greek PM and the Turkish PM are also meeting to discuss common projects and interests, but it is not clear if the three PMs have sat down together to discuss any of the planned regional projects or other issues.
Boyko Borissov has also confirmed his commitment to help Turkey in its EU accession efforts by sharing Bulgaria's experience in following relatively recently this route. Davutoglu said that Turkey is committed to the changes it needs to undergo and those have been slowed down by the re-occurring Cyprus issue.
"Bulgaria and Turkey are both Black Sea countries", Davutoglu said. "Relations with Russia are important and this is what we are discussing with Mr Borissov."
"The tension between Russia and Turkey on our Syrian border is a result of Turkey's aim to protect its air space, so we have no intention to complicate our relations, as they have an impact on sustaining peace globally," the Turkish PM added. "If a plane crosses our air space we have to act, especially when we do not know whose plane it is."
He added that "we are always ready to negotiate with Russia, we are a NATO member country and we informed NATO."
Refugees as the major problem of EU

Davutoglu said similar words across a few EU capitals since the above incident and the economic sanctions that followed between the two countries, already effecting trade, tourism and travel.
"I have said many times to my counterparts that Europe has to adopt the most democratic way to deal with [the Syrian refugee] crisis", said Borissov. "Millions of migrants headed towards Europe this year having a good reason [safety], others – were economic migrants".
"To the former I say – we are ready to help them, to the latter – there is order and rules, which have to be followed. As a result, my position in the EU has always been to stop straight away the influx of migrants", said Borissov.
According to the Bulgarian PM, the way forward for those in the EU already is to find jobs and to secure medical care, while pointing out that a global solution to the Syrian migrant problem is necessary. The refugee crisis has not always been an easy topic across Europe and the rest of the world.
Borissov referred to the fact that the USA has decided to accept 80,000 refugees, so he is pro-quota. Borissov also said that Bulgaria has built a fence with Turkey using its own funds, as the country needed to make an effort to resolve the problem, underlining once again the importance of national security, in addition to regional co-operation.
"In reality, the EU accepted all the proposals, which Davutoglu and I made in Istanbul, two weeks ago," Borissov said. He also noted that some 60,000 babies have been born in the refugee camps, so if the two countries are looking for an argument they could always find it, but the key thing is to help each other.
As the bi-lateral meeting aimed to seal good relations between the two countries, there was no debate about the dangers of a potentially even bigger humanitarian and demographic crisis next door.
On that matter Borissov expressed his gratitude to Turkey, saying that Bulgaria does not feel significant pressure as a result of the common border control and the refugee buffer zone in Turkey.
In addition, Borissov said that the interior ministers of Bulgaria and Turkey are planning joint action against people smugglers.
"Addressing the human tragedy of the refugees is a priority for both countries", Davutoglu said.  "Our wish is to create conditions for them to remain in Syria."
Separately, the high speed train connection between Sofia and Bulgaria could give a boost to Bulgaria's slower than expected railway renovation and modernisation. Meanwhile, the fast train link will represent a new physical proximity between the heart of the EU and Turkey, while encouraging tourism and travel between the two neighbouring countries, which is currently mainly done by road.
Rumyana Vakarelska is an Editor-in-Chief of Team New Europe, a political Action-Tank