The Sarajevo International Airport currently holds 10th place in the SEE, as it has less than one million passengers annually and only 3,9 per cent of overall traffic in the region.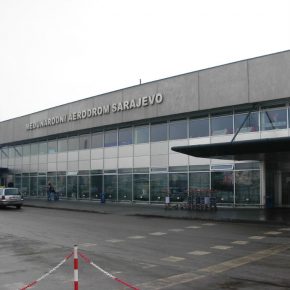 (Micki, CC BY-SA)
Still, the number and capacity of flights connections to Arab countries and greater Middle East gives Sarajevo the leading position even outside the region. Bosnia and Herzegovina has far fewer air passengers in the region, only 6.3 per cent of the total number of passengers, but this year things are moving seriously up, primarily in Banja Luka and Mostar.
The first flights to Sarajevo Butmir airport started in 1930, serving on the Belgrade-Sarajevo-Podgorica line. In 1969, today's airport was opened, not far from the former one. Mostar Airport was opened for civilian traffic in 1965. Banja Luka Airport was opened in 1976. Although there were civilian flights from Tuzla at the beginning of 1990s, it was only after the Bosnian war that this airport opened for civilian traffic in 1998. In the summer of 1991, JAT Airways (former national carrier of Yugoslavia) flew from Sarajevo to Belgrade and Zagreb, and from Mostar to Belgrade and London. Adria Airways flew from Sarajevo to Belgrade, Istanbul, Ljubljana, Rijeka, Skopje and Zagreb, and from Mostar to Dubrovnik, Ljubljana, Rijeka and Zagreb. Croatia Airlines flew from Sarajevo to Zagreb, before and after the summer for Skopje, and during the summer for Tivat.
While other airports in the region have a large majority of their flights to European destinations, Sarajevo has more than half of its flights (52.6 per cent) towards the Middle East and Turkey. Sarajevo has no flights to any of the largest hubs in Europe (London, Paris, Frankfurt, Amsterdam), but has five lines to the Middle Eastern hubs Dubai, Kuwait City, Sharjah and Riyadh with up to 44 flights, while two carriers (Turkish Airlines and Pegasus) run up to 27 weekly flights. A total of 71 weekly flights connects Bosnian capital with the Middle East. Belgrade is certainly superior to the number of flights to Asia, but if we want to compare flights to Arab and Turkish destinations, Sarajevo is certainly dominant. However, it is important to point out that the top Iranian companies Iran Air, Mahan Air and Qeshm, and Al Masria for their charter towards Egypt, chose Belgrade as their primary spot in the Balkans.
Regarding connections to Istanbul, Sarajevo has by far the highest number of flights in the region, especially after Atlasglobal Airlines seriously reduced its number of flights to Belgrade in beginning of August 2018, so Belgrade has come by with only one flight more than Priština and two more than Skopje. It should be noted that Serbian regulators forbade the use of the A330 that Turks wanted to use on overwhelming number of their 14 weekly flights to increase line capacities within the frequency range.
The flight announcement by the new FlyBosnia company scheduled new flights between Sarajevo and Riyadh this summer, and later it plans to launch flights to Jeddah, the primary airport for Hajj und Umrah to Mecca. The company has been chartered by Al Shiddi Group from Saudi Arabia, which is known for its investments in Bosnia and Herzegovina (BiH), including Sarajevo City Center, Hotel Bristol, SRE Investment and Shad Invest. But as the company did not receive the Bosnian Air Operator's Certificate (AOC), flights to Riyadh are operated by Nesma Airlines from which FlyBosnia was able to rent a plane. Nesma has a fleet of 10 aircraft, of which 6 are in Saudi Arabia (2 A320 and 4 ATR-72), and 4 in Egypt (1 A319 and 3 A320). Sarajevo is especially popular in the summer when the middle and higher class from Middle East stay away from the deserts and settle in the green and mild climate. That is why the seasonality of the Arabian lines is enormous, so the number of flights in summer and winter is incomparable.
Although in the winter all the region's companies significantly reduce the number of flights to Asia, the Sarajevo reduction is far greater than in the other cities. Towards Istanbul, Sarajevo had more cuts this winter than in the past years. Even though it is the first in number of Istanbul flights in the summer, in winter it holds only the 4th place, and winter flights are more often from Belgrade, Skopje and Priština.
The largest number of flights this summer for Sarajevo has flydubai (as many as 21), of which 9 lines fly daily or more. Three of the four neighboring national airlines fly to Sarajevo, Croatia Airlines has the largest number of flights to Zagreb, and Croatia Airlines has substantially more capacity offered in comparison to the other two carriers. Although Slovenian national carrier Adria Airways has more capacity for Sarajevo than Air Serbia, it serves one flight less than the Serbian national carrier. However, Banja Luka flights put Air Serbia in the 2nd place according to the capacities for overall BiH.
Montenegro Airlines does not fly to BiH, although it had such flights. The announcement of the Croatia Airlines for opening a base in Sarajevo is not realistic, as the company itself is in process of painful reform and privatization. In contrast, Adria Airway's expansion strategy could have a target Sarajevo, and the company could build a base in Priština to operate flights for Lufthansa, Air France, and KLM. With PLL LOT opening a new maintenance base in Budapest, cooperation in the Balkans and connecting flights to Middle East might be possible also for the Polish company. The Central and Southeast European (CSE) carriers are greatly misrepresented in BiH, with the exception of Wizzair.
A major problem for the Bosnian airline industry is that country doesn't have a national carrier. For three years, the idea of re-launching a national carrier in Bosnia and Herzegovina, after the bankruptcy of BiH Airlines in 2015, is underway. Turkish Airlines are also mentioned as a potential partner. Turkish Airlines had the co-ownership of BiH Airlines between 2008 and 2012 but withdrew due to the disagreement with Bosnian government over the company's management. Regardless of previous bad experiences, it is not impossible that Turks found a company in Bosnia, as well as in some other countries. But whether the restart of Turkish involvement will really be realized, remains to be seen.
Meanwhile, it seems that other airports in Bosnia are more successful than Sarajevo. When comparing the airports in Tuzla and Sarajevo, there are two basic theses. The first is that Tuzla reaches Sarajevo and that it is only a matter of time when it will overtake it. In five years, Tuzla grew by 530,000 passengers, while Sarajevo grew by 378,000 passengers in the same period. However, this trend has been rapidly turning in favor for Tuzla. In the last year, Sarajevo grew by 119,003 passengers, and Tuzla for 224,436 passengers. If this trend of growth continues, Tuzla would have overpass Sarajevo in just four years. Still, the final data for 2018 is not yet known, and there are signs that Sarajevo has more passengers than Tuzla. The other thesis is that Sarajevo the future belongs to Low Cost Carrier (LCC). According to the number of carriers Sarajevo has, 6 are LCC. Tuzla has 15 LCC lines, Sarajevo 8, but Sarajevo has significantly more LCC flights per week in the summer (52) than Tuzla (45). In winter Tuzla has several LCC flights more, given the great seasonality of LCC flights in Sarajevo, especially towards the Middle East. Both Sarajevo and Tuzla are increasing the capacities of their airports, as both of them are in the upgrades of their terminals.
The LCC has literally split Bosnia and Herzegovina. First, Mostar opened two Eurowing lines for Düsseldorf and Stuttgart with two weekly departures. This should not be surprising given the huge Croatian diaspora from BiH living in Germany. If these lines are successful, Eurowings could open another line to Germany and Vienna. Mostar said it also negotiated with Turkish Airlines to open a line to Istanbul. It makes sense because of the large number of Muslim population, but also the huge number of connections that Istanbul offers, although the less risky option would be the Turkish LCC Pegasus. Banja Luka turned to a carrier which is not present at any airport in Bosnia. As Tuzla has Wizzair, Sarajevo has Norwegian, Eurowings, flydubai, Air Arabia and Pegasus, and Mostar Eurowings. Banja Luka has financially motivating Ryanair for coming. This is why it has received the largest LCC, with the greatest potential, but also the most difficult for negotiations and the most risky for further business as Rynair likes to change the conditions of cooperation. For the time being, Ryanair has opened 3 lines (Charleroi, Memmingan and Stockholm Skavsta), but according to their usual mode of operation, in the first wave they open 5 lines that will "test the market" in the next five years, and two more lines are expected to be opened soon.
In any case, the sleepy Bosnian airline market has seriously awakened this year. Therefore, BiH will have a serious growth this year, and within two or three years it could continue to win with not only Slovenia but also with Kosovo by the number of passengers. Unfortunately, the development of air traffic still depends on the will and the ability of local authorities.
Vedran Obućina is an analyst and a journalist specializing in the Croatian and Middle East domestic and foreign affairs. He is the Secretary of the Society for Mediterranean Studies at the University of Rijeka and a Foreign Affairs Analyst at The Atlantic Post.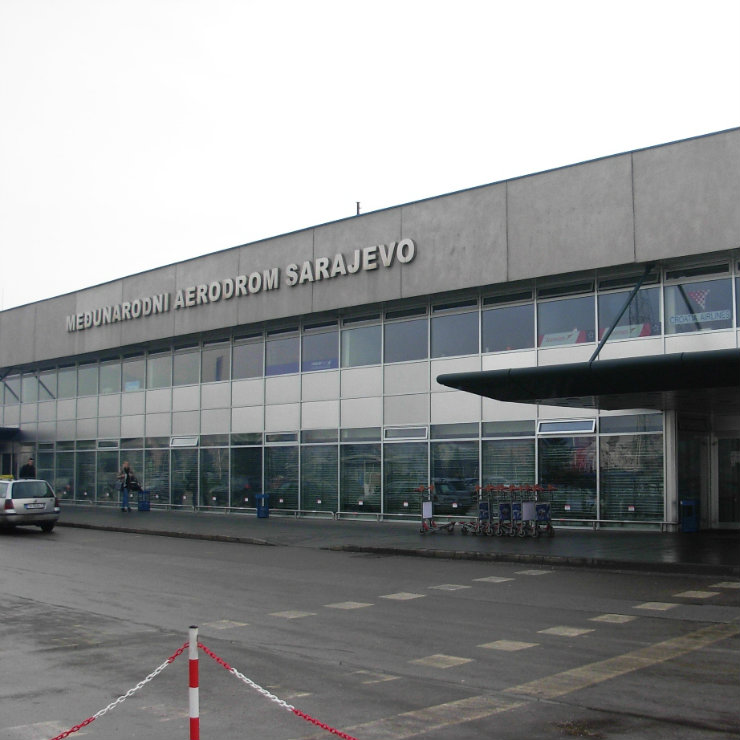 (Micki, CC BY-SA)