Banking-as-a-service (BaaS) is a process in which banks provide access to the back-office to third parties. This enables the latter to offer financial services without the need of obtaining banking licenses and possessing the required technologies.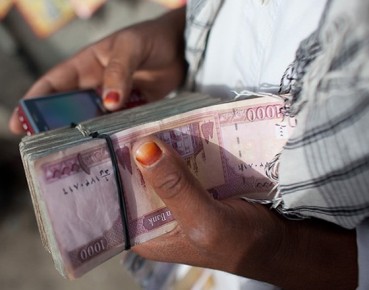 (Jan Chipchase, CC BY-SA 3.0)
It is no longer necessary to own a bank in order to offer banking services. In Europe, the concept of open banking derives from the PSD2 directive and assumes third-party access to information about customers and their transactions, as well as the implementation of these transactions by third parties, including non-financial companies.
This is made possible thanks to an IT tool known as the application programming interface (API). Some banks see this development as a threat, while others see it as an opportunity.
White label financial products
Digital banking platforms provide access to technologies and processes related to security and customer identity verification which are legally required under the applicable regulations. Such platforms are used by many companies, for example, in the eCommerce or tourism industry. This solution allows them to include in their offer financial products under their own brand, while reducing costs and accelerating many processes.
The American company Walmart, the world's largest retailer, cooperates with the virtual bank Green Dot in order to provide unbanked customers with access to basic financial products. The role of the bank operating in the background of the Walmart app involves opening accounts, issuing cards, processing payments, and fulfilling regulatory obligations, including those relating to fraud prevention. Walmart also implements marketing activities and conducts loyalty programs through the platform.
Interestingly enough, suppliers of BaaS solutions include many digital-only banks, also known as challenger banks. This is a consequence of low profitability in the core segments of business activities targeted at less affluent and underbanked customer groups.
One of such entities is the British mobile bank Starling, which enables fintechs, other banks and companies to maintain their customers' accounts based on its own banking license. It is used, among others, by Rasin, a pan-European savings and investment products broker.
Back-office services (e.g. risk management, anti-money laundering, compliance) are also offered by the German-based Fidor Bank, along with the possibility to implement dedicated products. Most of its clients are other challenger banks and fintechs.
Global innovators
At least two players are worth mentioning when talking about businesses involved in BaaS. One of them is the American bank Bancorp, which enables almost a 100 of non-banking institutions to issue more than 75 million prepaid cards used for various financial services.
The other is the Spanish bank BBVA, which has put BaaS at the heart of its strategy, gaining the reputation of the world's top innovator. BBVA developed its digital platform (BBVA Open Platform) based on the experience acquired during the 2014 takeover of the American banking start-up Simple.
Thanks to API-powered services, BBVA's partners, that meet the regulatory and security requirements, can offer financial products under their own brands to business and retail customers. These platform-based services, mainly used in the United States, are characterized by a plug-and-play design. As part of the offered service package BBVA verifies customers (Know Your Client — KYC), maintains current accounts, executes money transfers, and issues debit and credit cards.
Last year, BBVA's platform recorded an average of 750 000 connections (so-called API calls) per week. Its clients include both financial and non-financial entities. One of them is the California-based challenger bank Wise, which specializes in services for the SMEs and does not hold a full banking license.
Thanks to integration of its app with the BBVA platform, Wise can offer customers payment processing, cash flow management, an overdraft facility on a corporate current account, and payroll services. In Mexico, BBVA's platform is used by Uber for handling the financial operations relating to the drivers, their families, as well as suppliers.
One of the platform's biggest clients is Catch, a company supporting non-salaried workers in the United States (gig workers) in matters such as taxes, pensions, and insurance. In the US alone there are currently more than 50 million workers involved in the gig economy.
Solutions for fintechs
The BBVA platform enables companies to offer basic financial products to the underbanked segment of the market under their own brands, that is, in the so-called white label banking model. According to Abhishek Gupta, who manages the BBVA platform, the bank's alliance with Catch shows that BaaS provides an opportunity to expand the product range offered not only to the clients in the financial sector. It is the first bank in the US that has such capabilities.
BaaS services can also be offered by fintech companies — this is known as Fintech as a Service (FaaS). The condition is to at least hold a payment service provider license. The British company Rapyd specializes in this type of activity. The cloud-based computing solutions provided by this start-up, which is valued at USD1bn, enable large eCommerce entities to manage, integrate and control payments in multiple currencies and in many markets. Rapyd's global-scale API also enables companies to provide customer identity verification, customer loyalty programs, or e-wallet payments under an own brand.
This fintech has recently obtained a money transfer and payments license in Singapore, and this opens up the possibility of expansion into the Asian markets. The London-based Bankable is another fintech Baas platform. Its solutions in the area of organization and management of payments (e-wallets, card programs) are mainly directed to other fintechs.
Meanwhile, Pi1 is a computing cloud-based digital platform which operates the Dozens app. It allows fintechs and smaller banks to implement digital financial solutions in just three months, and it verifies customers in 90 seconds. The BaaS infrastructure is also used by Monzo, which is another British challenger bank. One of its key clients is Transferwise, operator of international money transfers, which has secured the status of a tech unicorn (valuation exceeding USD1bn). Monzo integrates Transferwire's payments, but also offers Transferwire's services independently. This benefits the clients of both companies, as they pay lower charges.
The open banking model
BaaS solutions are also a good option for financial entities from outside the EU that want to offer their services on the EU market without a banking license or without "passporting" their services, that is, expanding a license obtained in one country (e.g. in Lithuania) to cover the entire territory of the EU. In this way the Turkish Islamic banking operator Albaraka has been able to reach up to 27 million Muslims in Europe since 2018.
Albaraka uses the open API of Solarisbank, which is a German technology company with a banking license. Albaraka is able to offer customer verification (using video calls), open bank accounts, and issue contactless debit cards. All these activities are performed under its own brand (Insha). The implementation of this solution only took six months, while the process of obtaining a banking license would take a minimum of two years and would be much more expensive.
BaaS is also a good solution for British banks. After Brexit finally materializes, they will lose access to the EU market, but will be able to utilize the model of Banking-as-a-Service in order to maintain the existing relationships with customers from Europe. Any other solution would be more costly.
Banks usually charge their clients for the BaaS services on a monthly basis, in line with two main pricing models. One model is based on payment for the specific services provided under the BaaS solution (for example, fulfillment of regulatory compliance requirements).
In the second model — the so-called pay-as-you-go model — a specific rate is set for each API call, that is, the connection of the two systems and databases, or the use of the BaaS provider's services. Mixed models are also in operation.
According to Bertrand Lavayssière from the Zeb consulting company, BaaS platforms can boost the cost-to-income ratio of the entities that offer them by 15 per cent. This is a big difference for many entities that are teetering on the verge of profitability.
But for weaker banks providing back-office services the transformation into an infrastructure provider carries the risk of losing the relationships with the existing clients and becoming degraded to the level of an outsourcing company. One remedy for that could be to form alliances with business partners (mainly fintechs) and to offer their services to the existing customers, who would as a result use a greater number of financial products.
In the coming years, the driving force in the development of BaaS services will be the popularization of the open banking model in many markets. An increasing number of technologically strong banks will stop seeing this solution as a threat coming from external entities.
For fintech companies Banking-as-a-Service will be an alternative solution to the process of obtaining a banking license and a payment service provider license. It will also enable them to scale their businesses more quickly, including on the international markets.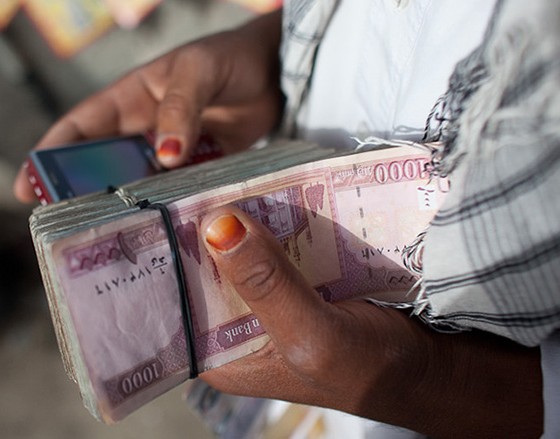 (Jan Chipchase, CC BY-SA 3.0)