The number of newly formed companies is growing at a slower rate and they have to compete with the banks, which are gradually catching up in terms of technological advancement.
Last year brought record-high results on the fintech market. The value of investments carried out by venture capital funds was over twice as high as in 2017 and amounted to almost USD40bn. However, according to estimates, if we take into account corporate funds and other types of funds, the total value of capital that flowed into this field exceeded USD100bn (it already reached USD57.9bn by the middle of the year).
More unicorns
The last five years has been characterized by a decline in the financing of start-ups at the early stage of development (the seed phase) and an increase in huge transactions with a value exceeding USD100m — there were 52 such "mega-rounds", with a combined value of almost USD25bn. The Chinese giant, Ant Financial acquired the most capital, raising USD14bn from investors. Companies such as Oscar (insurance), One97 and Stripe (online payments) were all involved in transactions with a value in excess of USD1bn. Meanwhile, in the largest acquisition, the British payment operator WorldPay bought the American company Vantiv for USD12.9bn.
As a result of investors' involvement, 39 fintech companies (16 more than a year earlier) have reached unicorn status (a private company worth over USD1bn). Their combined value reached USD147bn. Investments in larger entities indicate that the market has matured and there are now fewer promising innovations and business models that can attract investors.
Since the financial crisis, which contributed to the "fintech revolution", these new companies, together with other technological players, have taken over a significant part of the financial market. Accenture estimates that in 2017 these newcomers accounted for one-third of the revenue growth, or 14 per cent of the overall revenues, while the number of banking and payment entities has declined by 20 per cent since 2005.
Meanwhile, in the United States, the newcomers account for one-fifth of all financial entities. They have so far acquired about 4 per cent of the total revenue in this market. Big progress has been made in mortgages — the digital, branchless QuickenLoans has a larger share in this market than one of the largest banks — Wells Fargo. Thanks to the liberal regulations in the United Kingdom, as many as 63 per cent of financial entities are new companies, whereas the global average is 17 per cent. In Europe the newcomers account for 20 per cent of all financial entities, generating 7 per cent of the total financial sector revenues.
It's more difficult to attract customers
The continuation of this trend is no longer certain. Fintechs have mainly become specialized in acquiring and servicing customers remaining outside the traditional banking sector or those who were neglected by it. These are mainly young people, small companies, economic migrants, students and other people with no credit history and with irregular incomes, as well as numerous communities in the emerging markets — as a result of which the new players achieved the greatest success in China, and more recently in Brazil, where Nubank and Neon Bank have attracted several million customers.
This was made possible due to the rapid advances in digitization, including mobile finances on which the fintechs based their strategies. According to the World Bank's Global Findex Report, by the end of 2017 some 69 per cent of adult people in the world (3.8 billion people) had an account at a bank or one provided by a mobile operator, and three-quarters of these people carried out online payments. However, it will no longer be possible to attract clients as quickly as before.
The prospects for taking over customers in developed markets are also worse, because these customers have limited confidence in the new players. As many as 69 per cent of the surveyed British consumers don't want to share their data with these new entities for the purpose of carrying out transactions, while 60 per cent only trust their own bank. The restraint of customers is even greater in other, mainly developed markets. This could mean that fintechs will not necessarily be the biggest beneficiaries of the implementation of open banking in the form of the PSD2 directive.
Insufficient profitability?
The lack of a banking license is becoming a barrier to growth for many start-ups. At the beginning this was an advantage, because the growth of entities specialized in individual products was not constricted by regulations. Now it has become an obstacle in selling a broader offer and making it an element of first choice for customers.
That is why taking advantage of the liberal regulations, the fintech companies are now applying for a banking license or have already obtained one. This leads to the creation of a new type of market entity known as a challenger bank. That often enables them to enter a wider, mainly European, market. They are also receiving much greater support from investors (last year Revolut and N26 received several hundred million of the USD each).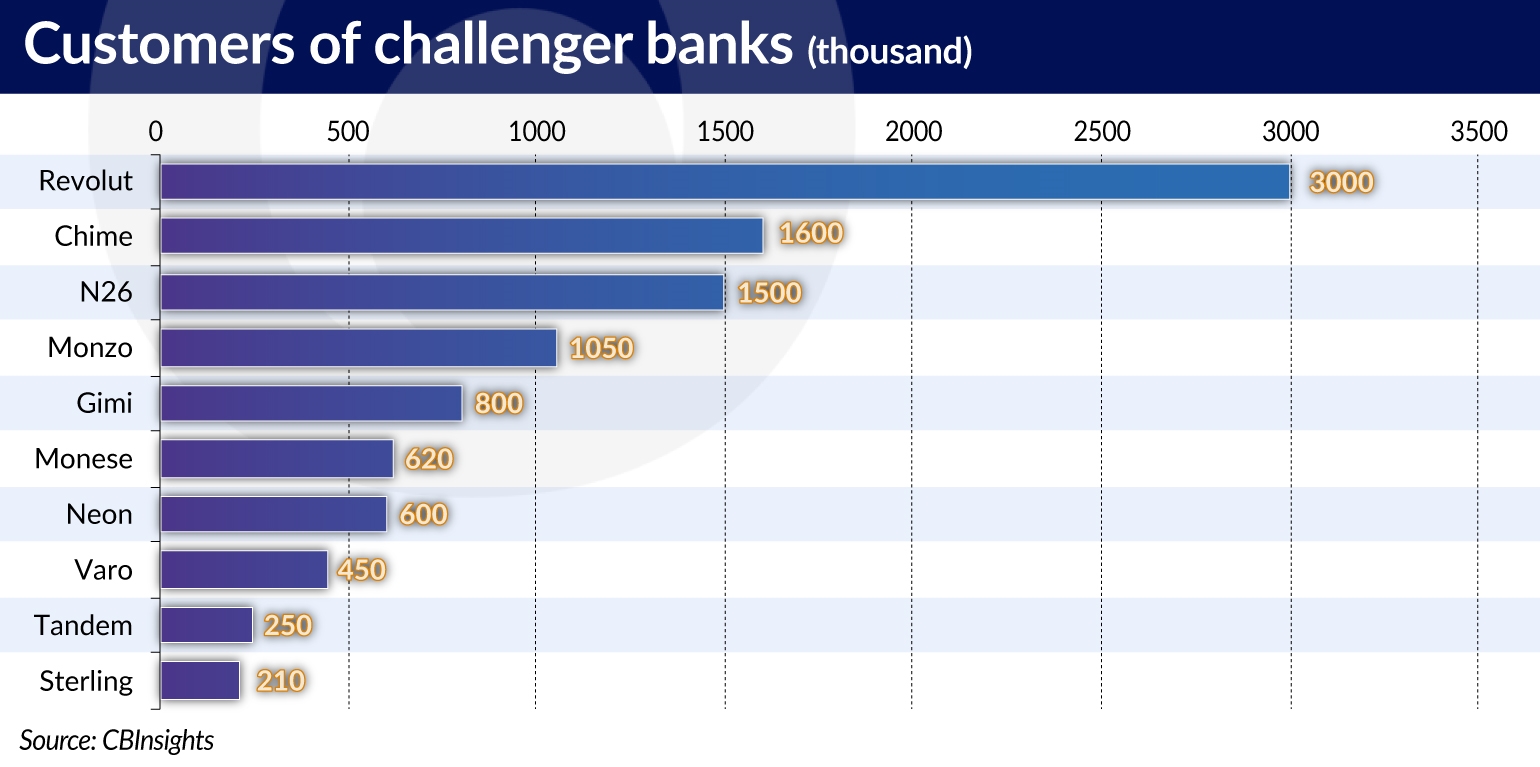 However, in most cases the number of acquired customers is not impressive. Another problem faced by the new players relates to their ability to generate revenues and their low profitability, which is a consequence of offering free accounts and attracting low-income clients. The global profits of USD8m, obtained in the last fiscal year (2017-18) by the fintech company Transferwise serve as a measure of success. Meanwhile, up to 65 per cent of the operating fintech companies are based on direct sales to consumers and small businesses — raising the fees could cause customers to flee. Other models of monetization are based on financial intermediation or deriving income from advertising, redirecting clients to other entities (referrals) and providing financial tools (e.g. enabling cost reductions or finance management).
Digital banks
Another issue is the growing threat to the classic technology start-ups from other players in the field of financial technologies. McKinsey points to infrastructure providers (FNZ, Marqeta, Onfido) and the controllers of ecosystems (Google, Amazon, Microsoft, Alibaba, Tencent, Ping An), who are developing in the financial sectors adjacent to their original field of activity, such as payments, loans, insurance, deposits, funds and financing of companies without a formal banking license.
The big technological companies also have the most patents for technologies that are applicable in the area of finance — a total of over 65,000. This includes Chinese companies, who have the most patents in the field of artificial intelligence and cloud computing. IBM has the highest number of strictly defined fintech patents — five times more than any bank. Meanwhile, Bank of America holds the rights to as many as 2,500 patents.
The traditional banking sector players are setting up their own digital banks, offering a user experience which until recently has been the distinguishing feature of fintechs with significantly less recognizable brands. Goldman Sachs established the digital bank Marcus, which already serves over 1.5 million customers. The Singapore-based DBS bank has entered the Indian and Indonesian digital market under the brand Digibank. Chase created Finn, Wells Fargo opened Greenhouse, while in 2017 the Israeli Leumi Bank founded the Pepper Bank, which employs only 40 people.
The banks have also adopted many fintech solutions for their own systems — this can be seen, for example, in the broad application of so-called robo-advisors, which are being developed by Morgan Stanley (Access Investing), Merill Lynch, Deutsche Bank and the investment giant Vanguard. Because the entry thresholds and fees have been significantly reduced, this inhibits the inflow of customers to the industry's fintech pioneers such as Robinhood.
Perpetual transformation
Banking is increasingly beginning to rely on the development of digital platforms where the customer will have access to many products offered by various entities. Companies with strong brands, which are running these open platforms, will ultimately prevail.
These could be banks or big technology companies. One such open platform has been implemented in the United States by the Spanish bank BBVA. The Royal Bank of Canada runs a platform dedicated to small and medium-sized companies under the brand Wave. It offers various services, from finance to law and accounting. Fintechs do not have the capital required to create such solutions. At the most they can serve as the suppliers of products and services for them.
They can also take advantage of this opportunity by becoming the technology providers for banks. In both cases, the price they pay could be the loss of their own marketing identity. However, partnership with the banks is now becoming the only reasonable strategy to ensure growth and avoid the regulatory costs. A number of global banks have been active in this field. These include JP Morgan (cooperation with OnDeck, Roostify and Symphony), and ING, which has entered into cooperation with as many as 115 fintech companies over the last three years.
There are also examples of bank cooperation in Poland (including, among others, PKO BP, Alior, BNP Paribas, mBank). Meanwhile, the projects concerning banking infrastructure primarily involve small banks. Moody's estimates that if the world's largest investment banks redirected 50 per cent of their capital expenditure on new technologies, the fintech sector could receive USD112bn in 5 years.
The global financial sector is constantly undergoing transformation induced by technological progress. The research and analytical company Gartner claims that 80 per cent of the existing players in the financial sector will disappear or lose importance by the year 2030. The financial landscape will become dominated by digital platforms based on modern infrastructure — only 5 per cent of the current players have a chance of competing in this area.
Fintech companies and digital banks will serve as the providers of such platforms, but only 15 per cent of them could succeed in this regard. The remainder are doomed to the role of low-cost players operating in niche and less-developed markets.