In 2017, a record amount of USD3.5bn was invested in Central and Southeast Europe (CSE) by private equity and venture capital funds. 71 per cent of this amount was spent in Poland, which is the regional leader.
The investments of private equity and venture capital (PE/VC) funds in the region went up by 113 per cent compared to the previous year. They were also 40 per cent higher than in the record year 2008, according to the report "Central and Eastern European Private Equity Statistics 2017" compiled by Invest Europe, an association of companies managing PE and VC funds, and a French law firm Gide.
In the whole of Europe, funds invested EUR71.7bn, 29 per cent more than in 2016 and only 4 per cent less than in the record year 2007. In Poland the investments of PE and VC amounted to EUR2.49bn and were over 3 times bigger than the previous year.
Growth itself compared to 2016 does not come as a surprise, since the representatives of companies managing PE funds in the CSE region announced as early as a few months before the end of 2017 that it was going to be a better year than 2016. The scale of the increase, however, has exceeded expectations. It is mainly due to large takeovers. Their value in the region amounted to EUR2.8bn and was 135 per cent higher than in 2016.
Poland accounted for over 80 per cent of the value of the takeovers. One of the biggest transactions was the purchase of Żabka retail chain by CVC Capital Partners from funds managed by Mid Europa Partners. The value of the transaction was not disclosed, but the media estimated it at a EUR1bn.
Data presented in the report show that investments of PE funds grew by 122 per cent, while VC funds invested 4 per cent less, i.e. EUR108m. In the case of VC investments, in recent years outlays have been hovering around EUR100m a year.
More for less
Although the value of fund investments in the region went up, their number went down. All in all, funds invested in 257 companies — 25 per cent less than a year before and 27 per cent less than in 2015, which was a record year when it comes to the number of companies receiving funds.
Investments were made most frequently in Hungarian companies (104, an increase of 21 per cent), as well as their Polish (60, a drop of one third) and Bulgarian (20, an increase of 25 per cent) counterparts.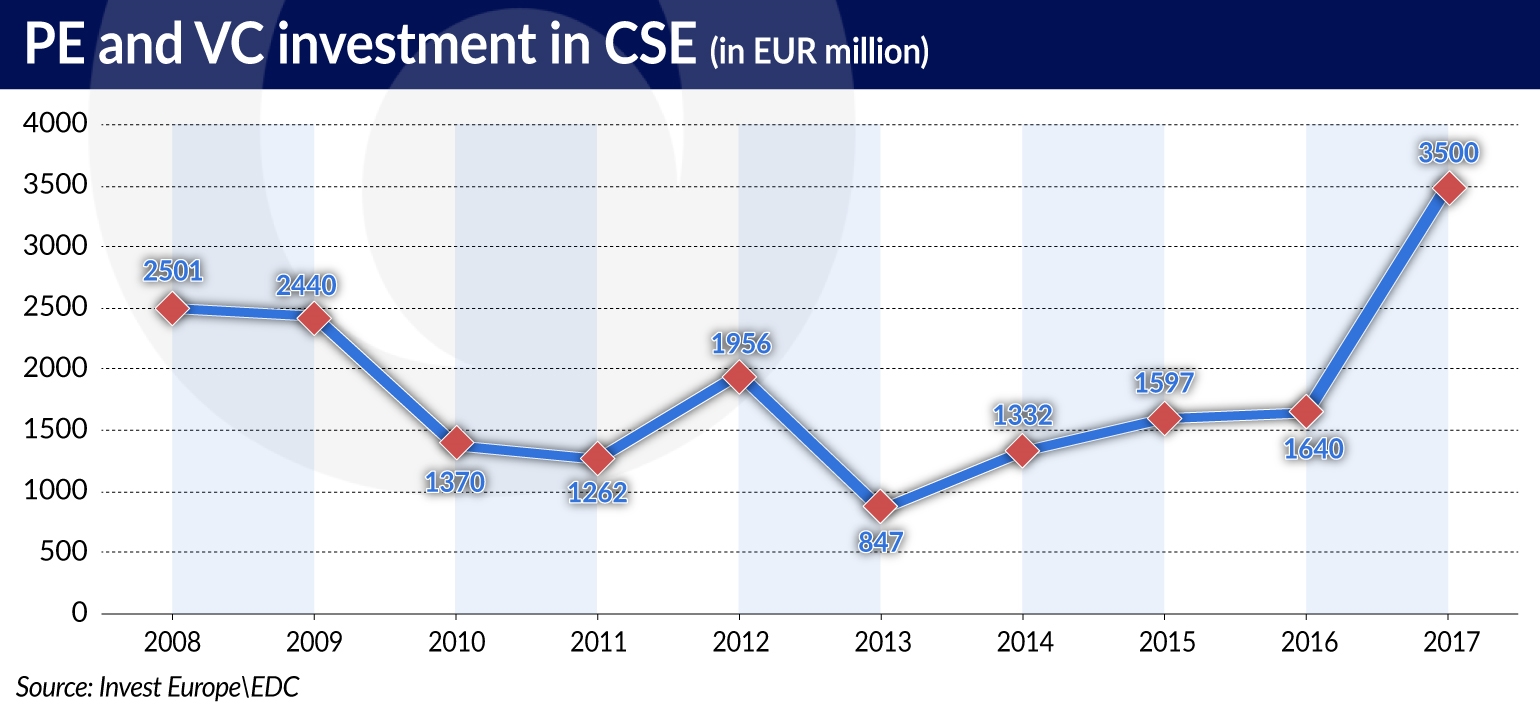 The decrease in the overall number of investments in the region, just like in 2016, is attributable to the decreasing number of start-ups which obtained funding from VC funds. In 2017, VC funds invested in 173 regional start-ups, while a year earlier the number stood at 239. In 215 financing was granted to 259 start-ups in CSE.
Compared to 2016, the structure of investment in start-ups has changed. Both in terms of the number of investments in particular categories and the share of the categories themselves. While in 2016, start-ups at an early stage of development that most frequently received investment (167 companies obtained a total of around EUR85.2m), in 2017 money most often went to companies at their embryonic stage (119 companies received over EUR33.2m). The number of investments in start-ups in the early phase of development dropped to 46 (EUR47.9m), while the number of investments in companies at the embryonic stage increased by over 100 per cent compared to 2016.
The most money, almost EUR49.3m, went to Polish start-ups. Hungary ranked second with EUR28.7m, while Romania came third with EUR5.6m.
As in 2016, funds invested the most money in companies in the consumer goods and services sectors (EUR2.6bn, almost seven times as much as in the previous year) and in ICT (EUR369m, an increase of 14 per cent). In terms of the number of transactions, the majority of transactions once again involved ICT companies (90). The business products and services sector came second (51), and the consumer goods and services sector third (47), the last two exchanging places with respect to 2016.
What catches the eye is the significant drop in the value of fund investments in CSE companies from the biotechnology and health sector (by 73 per cent, down to EUR40.3m), in finance and insurance companies (by 68 per cent, down to EUR49.34m), as well as in energy and environment (by 66 per cent, down to EUR66.2m).