Polish employment agencies are recruiting for work in Germany as demographic trends and skill shortages are ruining the labor market, reported Puls Biznesu. Polish employment agency Work Service leads the new initiative.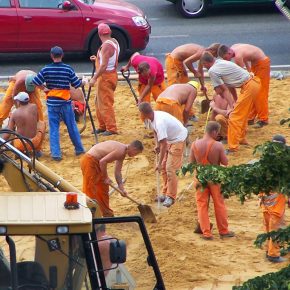 (Lestat, CC BY-SA)
Poland has traditionally been an exporter of its people and since the accession to the European Union, emigration in search of work peaked at just over 2m in 2007.
Initially, the destination in 2004 was the United Kingdom. The Blair government operated an open door policy regarding immigration and just over million of Poles came to Britain looking for work. In 2011, according to the UK census, nearly 600,000 Poles were resident in England and Wales, and Polish became the country's second main language. In 2015, according to the UK Office for National Statistics, this figure has risen to 831,000. Poles have overtaken the Indian community as the most common non-UK country of birth for immigrants.
Germany by contrast maintained a closed door policy until 2011 and according to the Polish Central Statistical Office (GUS); 614,000 Poles were resident in Germany by 2014. Now, Germany has become the preferred destination for Poles to seek work according to Work Services's report Polish Economic Migration, May 2016. It shows that of those respondents who are thinking of emigrating, 34 per cent are thinking of Germany, 18 per cent the UK and on the third place is Holland with 6 per cent.
As the demographic trend continues downwards in Germany, its employers are recruiting directly in Poland, to try and fill the gaps. However, German companies are seeking to recruit better qualified workers than the low-skilled hitherto recruited.
The latest initiative is direct recruitment. Work Service is seeking to recruit 400 fork lift truck operators for the Bavarian company Imperial Logistics International.
Krzysztof Inglot, Press Officer at Work Service told Puls Biznesu that Poles have established themselves a reputation as solid and well-prepared workers. Candidates for the new positions will have to undergo a two month familiarization course in Swarzędz in the western Poland during which time they will be employed on a temporary basis with full board and lodging.
Agata Zdybicka, International Customer Development Director at Work Service added that they are seeking workers from all Poland and are targeting those who are experiencing difficulties with finding employment in their local job market. The scheme exhibits some wider issues about the Polish job market, as Andrzej Kubisiak Head of the Press Office later told the Financial Observer in an interview.
"We can't put a figure as yet on the take up but we've had much interest among a wide age range and in particular the 50 plus group. This is not a pilot project but it is unique. The candidates will obtain qualifications and skills which they can later use. We hope that this will stimulate internal migration amongst Poles who can travel within the country to look for work," he said.
The structural aspects of emigration have changed
"The model has changed. At first, we saw young people from the larger towns leaving, generally for good. Later they would invite their friends and family over. Now there's what I call the 'boomerang' model; people leave for three or four months and return. The make-up has changed too with younger unemployed people coming from the smaller towns and regions," Kubisiak said.
The effect on Poland and its labor market is interesting but potentially dangerous in the longer-term.
"There is a low level of unemployment," Kubisiak continued "but already there are skill shortages in areas like welding, joinery and the building trade. This is a real threat to the labor market in the next few years. Especially since demographic trends mean that there will be fewer workers in Poland."
The slack is partly being taken up by Ukrainian workers but it can't fill the gap completely Kubisiak said. But many Polish manufacturing or logistics companies would have a hard time without Ukrainian employees.
According to Eurostat, the official unemployment rates in Germany and Poland have been decreasing and stand at 6.3 and 4.2 per cent respectively. The main difference is in the average annual salaries which at USD44,900 in Germany as compared to USD24.000. This is still the main reason for moving abroad according to 79 per cent of respondents.
European Union demographic trend show a decline Among the working population of 15-64 yo Germany's is declining from 41.8 to a predicted 30.1 by 2060, while Poland's moves from 18.3 to 12.6 over the same time.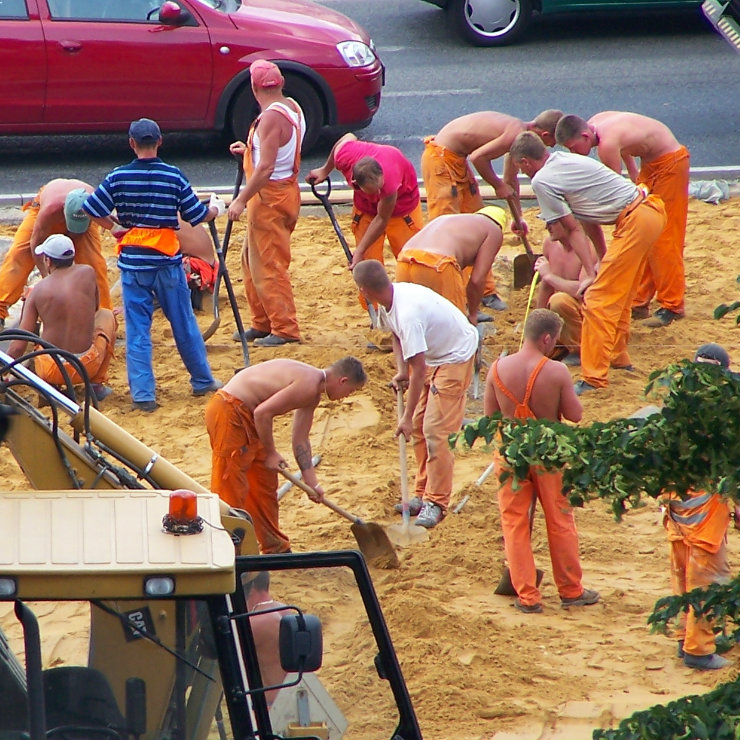 (Lestat, CC BY-SA)